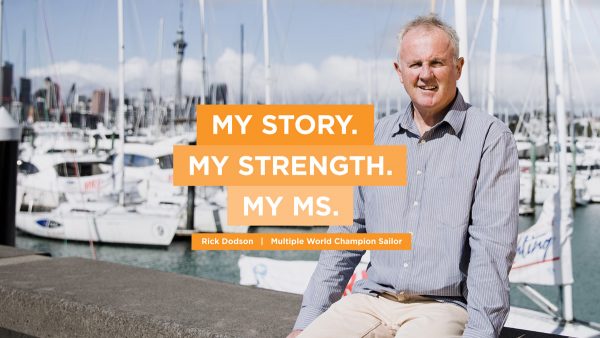 When I think back my first symptoms stared 20 years ago but to be honest it did not really impact on my professional career to about 10 years ago. I have completed Three Americas Cup regattas winning two with Team New Zealand.
I noticed my eye sight first and this was influencing my role with Team NZ. I was then referred and diagnosed as having MS. Later my speech and balance became an issue. My sister Celia and brother Tom have been enormous support to me over the years.
In 2010 it became obvious that I was no longer able to sail professionally in the Americas cup where I has so much previous success. That was a hard pill to swallow.
Yachting New Zealand approached me about getting involved with disabled sailing I was thrilled for such an opportunity and set up the Kiwi Gold sailing campaign. The first steps were getting a good sound management team in place then we went about recruiting a crew of disabled sailors. Our goal was simple to win gold at the 2016 Rio Paralympic games. Our team managed to place an impressive 3rd equal at the games but we ended up on a 4th on a countback a very credible effort.
I remain positive I think it's important to focus on the future always have a goal in mind and just chip away at it. I have not let the illness get the better of me and have spent the last few years improving my speech and balance. I still would like to have a role within the next NZ Sailing campaign maybe as a coach or strategist, one thing is for sure I know the Hauraki Gulf. Just because I have MS it does not take away any of my comprehensive knowledge. You can still do the things you love you just have to sometimes do them differently.